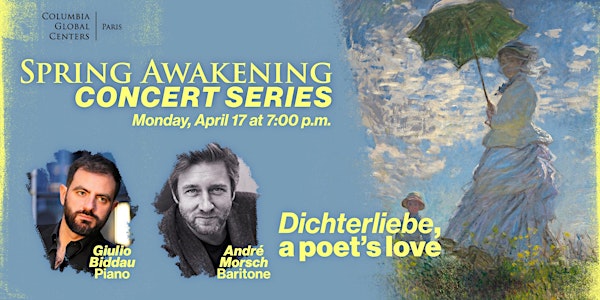 Reid Hall - April 17 - 7pm
A Poet's Love: Robert Schumann's
Dichterliebe
Register here
This event is co-sponsored by the
Columbia University Club of France.
Poet's Love
Dichterliebe, or "a poet's love," is a 16- song cycle composed in 1840 by Robert Schumann with texts based on Lyrisches Intermezzo by Heinrich Heine. The latter's first lyric, Im wunderschönen Monat Mai, is evocative of lovers in spring: "In beautiful May, when the buds sprang, love sprang up in my heart: in beautiful May, when the birds all sang, I told you my desire and longing." These romantic conventions are considered to be ironic by some, and not by others. Schumann appropriates the lyrics for himself, depicting a poet's love through a language of flowers, dreams, and fairy tales. After Franz Schubert's song cycles Die schöne Müllerin and Winterreise, Schumann's Dichterliebe is part of the core of the genre in musical literature.
Giulio Biddau
Giulio Biddau (pianist), born in Cagliari in 1985, is a Prize Winner of the Casagrande Competition in Terni, "Les Nuits Pianistiques – Lauréats SPEDIDAM" in Aix-en-Provence, "José Iturbi" in Valencia, and the Tbilisi International Piano Competition. He has performed in venues including the Auditorium Parco della Musica in Rome, Salle Cortot in Paris, Konzerthaus in Berlin, the Grand Theatre de Provence in Aix-en-Provence, and the Palau de la Musica en Valencia, among others.
Recently, he has made several broadcasting appearances with foreign radio and television such as Japanese NHK, France Musique and Rai Radio 3, ABC Classic Australia. He has also recorded music by Domenico Scarlatti and Gabriel Fauré for the French Label Aparté and by Respighi for "Evidence".
André Morsch
André Morsch (baritone), graduated with distinction from the Amsterdam Conservatory where he studied with Margreet Honig. A former member of William Christie's Le Jardin des Voix, he is a recipient of the Hermann-Reutter-Prize at the prestigious 'Internationaler Wettbewerb für Liedkunst' in Stuttgart and the Prix Bernac from the Académie Ravel in Saint-Jean-de-Luz.
A former ensemble member of Oper Stuttgart, he has also sung amongst many others at the De Nationale Opera Amsterdam, the Gewandhausorchester Leipzig, the Beethoven Orchester Bonn. In recital, he regularly performs with Julius Drake, with appearances at the Concertgebouw Amsterdam, Tonhalle Zurich, Delft Chamber Music Festival and elsewhere. Highlights from his 2021/22 engagements include Handel's Messiah with the NDR Chor at Elbphilharmonie Hamburg, Papageno in Mozart's Magic Flute at Theater Basel.